Whether you're a newbie to podcasting or you're looking to start a new project, you'll want to make sure you have the right tools to get the job done.
There are a few simple things that you can do to create a home podcasting studio.
What You Need For Recording Podcast
If you have a plan to record your own podcast or simply want to learn more about podcasting, there are some steps you need to take to get started.
Space For Recording
You need a space in which to record. When setting up a podcasting studio, you'll need to consider the size of the room and the type of equipment you will be using.
This can be a spare room in your house, an empty garage, or a closet. Next, you'll need to set up your studio. Ideally, your space should be carpeted and have curtains. It should also be acoustically treated so that there is little reverb.
You'll Need A Computer
You should also have a computer, as this is where you will be recording and uploading your show. If you don't have a computer, you can use a portable digital recorder or even a USB thumb drive.
You'll Need A Microphone
The microphones you choose will depend on the sound you are trying to capture.
A condenser microphone is the best choice because it's more sensitive. The microphone is sensitive to external noises, which means it can pick up your voice better.
However, you will need to connect it to phantom power. Depending on your preferences, you can choose between a USB mic or an XLR microphone. You'll also need headphones.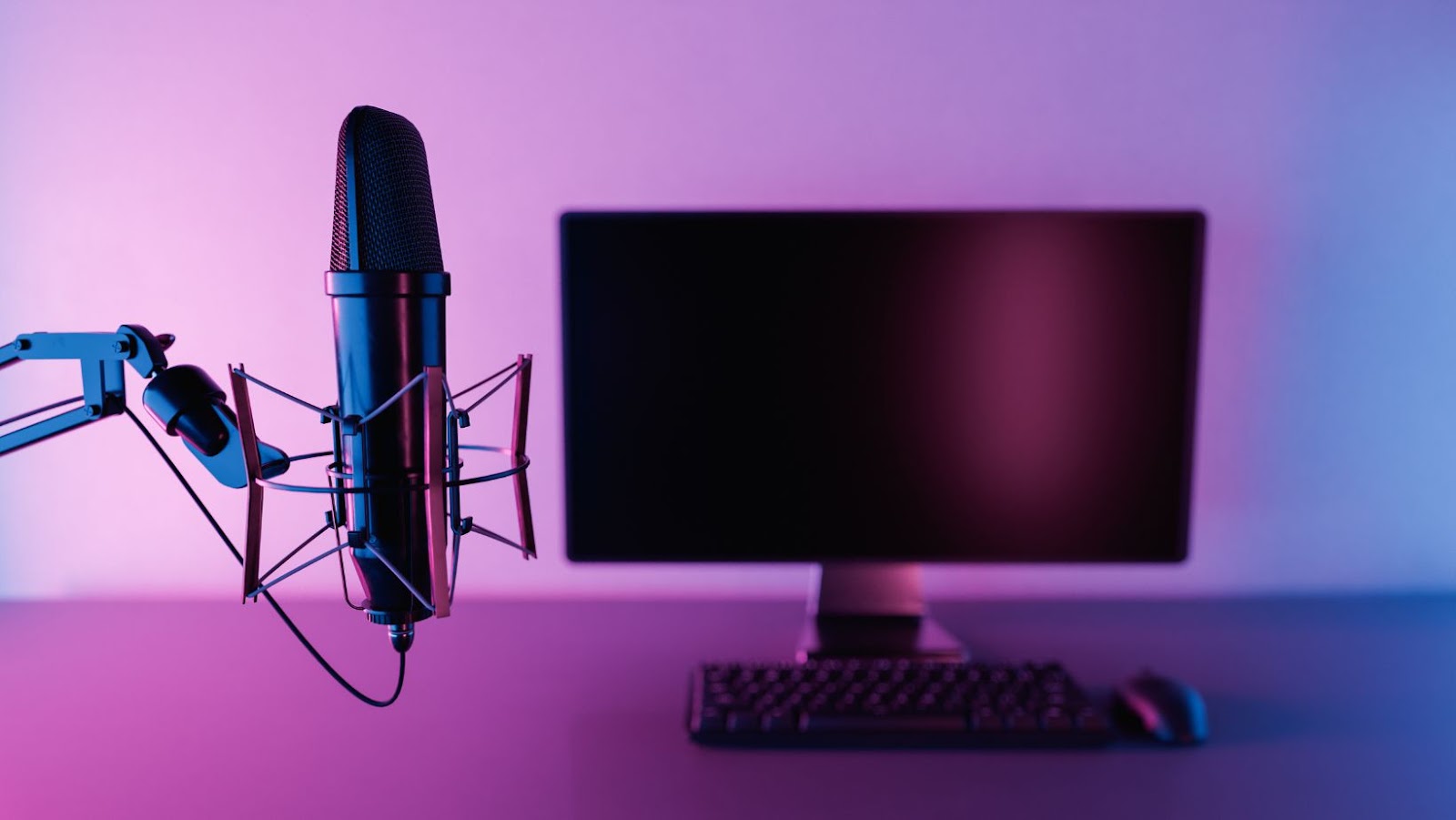 Audio Interface
Another piece of podcasting equipment you will need is an audio interface. This is a device that converts your microphone's signal into a digital signal, which your computer can then playback.
This is the piece of hardware that connects your audio equipment to your computer. An audio interface can be used on a desktop, laptop, or smartphone. A good audio interface will convert your microphone signals to digital signals, which can then be sent to your computer for playback and editing.
If you're using your computer, you'll likely need a digital audio workstation (DAW) to edit and enhance your audio. You can buy a high-quality DAW, or you can use one of the many free options available.
A Good Plan For Your Podcast
Develop a whole podcast plan. Think about who will be your target audience, what topics you would like to cover, how often you plan to publish episodes, and how much time you are willing to dedicate to producing each episode.
Take into account that podcasting requires a significant amount of work if done well. If possible, create a timeline for when each task must be completed.
Consider the format and structure of your podcast. Think about what kind of content you would like to include, such as interviews, segments, or monologues.
You may also want to brainstorm ideas for things that will add to the production value of your show, such as music beds or sound effects.
There's a lot to consider when it comes to the technical aspects of podcasting, such as audio quality and hosting. Make sure to do your research on the different options available and decide which ones will work best for you and your podcast.
You should also think about how you want to promote your show. This could include social media accounts, a website, or an email list. It's also important to decide how you will monetize your podcast and if you want to look for sponsors.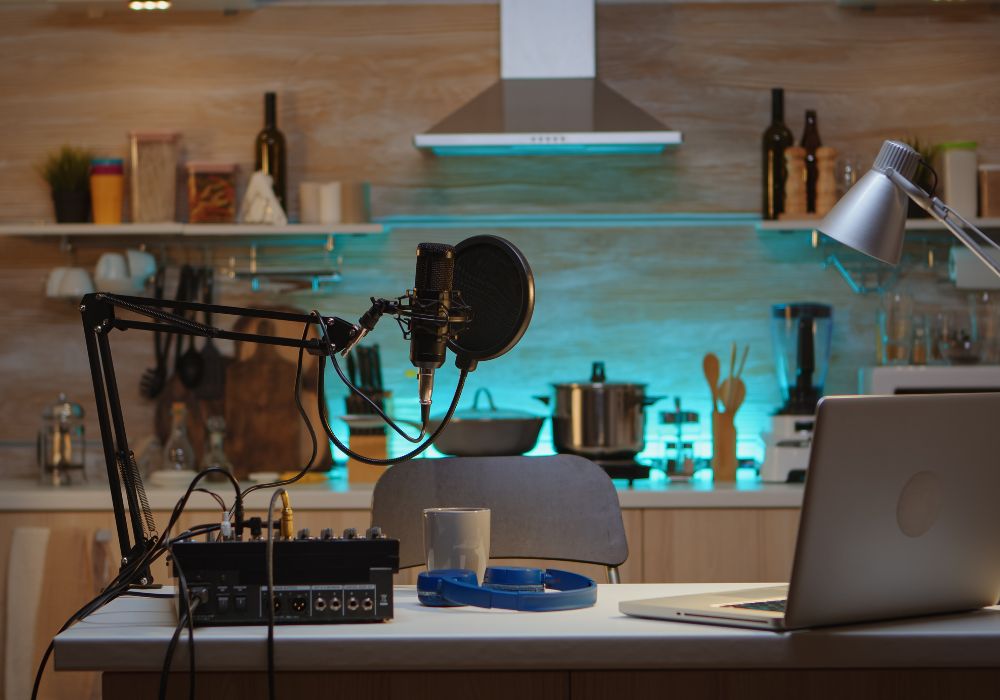 Audience
Home podcasting is a great way to reach a wide variety of audiences.
Whether you are building an audience for business promotion, entertainment, education, or other purposes, home podcasting can be used to reach people from all over the world.
The type of audience you want to reach will depend on the content and topic of your podcast. For example, if you are creating a podcast about business, then you should target an audience interested in business topics such as finance, marketing, operations, etc.
If you are creating a podcast about music or entertainment, then your target audience should be people interested in music or entertainment-related topics.
You can also target a specific age group, gender, or geographical location when creating your podcast. This can be done by researching the demographics of your topic and tailoring the content to fit those audiences.
If you are targeted toward young adults aged 18-30 years old, you could create content that is more relevant to this demographic.
Your podcast should be engaging and entertaining for your audience. Spend some time researching the type of content that resonates best with your target audience.
You'll Need Patience
Creating a home podcasting studio can be a long, complicated process, and it will require some time and patience to ensure that everything is properly set up and functioning well.
You will need a lot of patience to get the most out of your home podcasting studio. This is because you will need to research which equipment is right for your needs and learn how each works.
Take your time to research all available options for each piece of equipment and find the best solution for your budget and technical needs.
You'll Need Practice
Once your home podcasting studio is up and running, the most important thing you can do is practice.
Take some time each week to practice using the software and recording techniques you will use for your podcast. The more practice you get, the more comfortable you will become with your podcasting setup and process.
Conclusion
You don't have to shell out a ton of money to get a high-quality-sounding studio. A home podcasting studio is a great way to produce audio for your favorite shows and podcasts without spending hundreds of dollars on a professional recording studio.
The best home podcasting studio is comfortable, clean, and free of distractions.